W6M/20 19x12mm Tipped ASTM4142 Asphalt Road Milling Bits
Product Detail
Product Tags
W6M/20 19x12mm Tipped ASTM4142 Asphalt Road Milling Bits
Description
Type:
Road Milling Bits
Other Name:
Road Rehabilition Conicals Cutting Tips
Tip Material:
Tungsten Carbide
Processing:
Forging
Shank Diameter:
20mm
Tip Shape:
Cap Shaped
Application:
For Cutting Asphalt Layer
Machines:
Compact Milling Machines 100-300HP
High Light:

ASTM4142 Asphalt Road Milling Bits

,


ASTM4142 Road Milling Bits

,


ASTM4142 asphalt milling teeth
W6M/20 Tungsten Carbide Tipped Asphalt Road Milling Bits For Compact Milling Machines
1. Road Milling Bits Description
Road milling bits are also known as asphalt and concrete cutting bit, road planning picks, road milling machine cutter teeth, which are used as wear parts of road milling machine in road construction. Bit is installed in milling drum of milling machine and cut the road surface. The bits have two type, asphalt bits and concrete bits. According to the different road hardness with different bits.
Alloy steel Body, made by material ASTM4142 or 42CrMo,heat treatment with 40-44HRC hardness, has high toughness and wearable character.Tip with above 50 HRC hardness is made from Low press Sintered,and Suitable Grade Selected according to the Target Projects,Which are to make sure the good performance during working.
SW6M/20 is cap-shaped carbide tip for removing asphalt layers, pick head without or with extractor groove as a dismantling aid. The shank diameter is 20mm, carbide tip diameter is 19mm x 12mm, high wear-resistant and strong breaking strength. Recommend for the large milling machines of Wirtgen, Dynapac, Cat, Kennametal or Sanvik.
2. Specification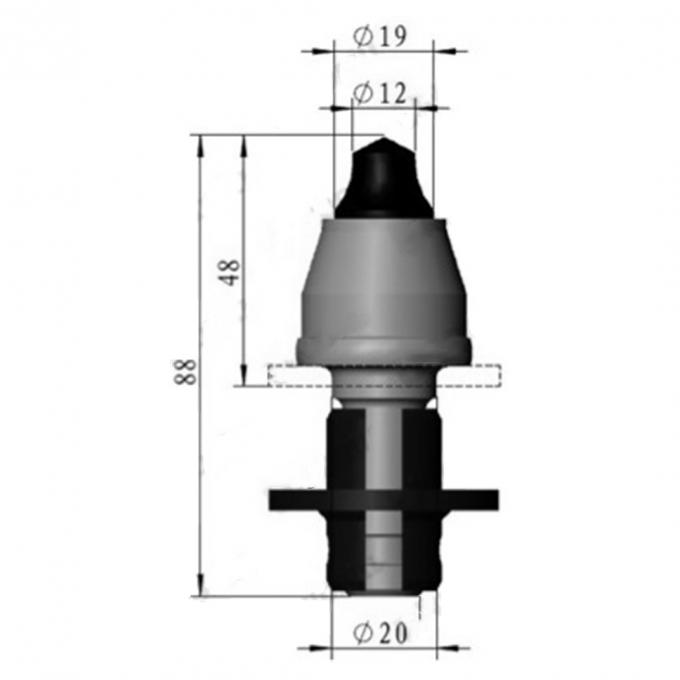 | | |
| --- | --- |
| Type | Meaning |
| SW6/20 | Compared to Wirtgen W6/20X2 |
| Appliciaton | Cap-shaped caride tip for removing asphalt layers. |
| /20 | Held in the toolholder bore with a shank diameter of 20mm |
| Carbide weight per pick | 30g |
| Quantity per toolbox | 50 pieces |
| Weight per toolbox | 17kg |
3. Road Milling Picks List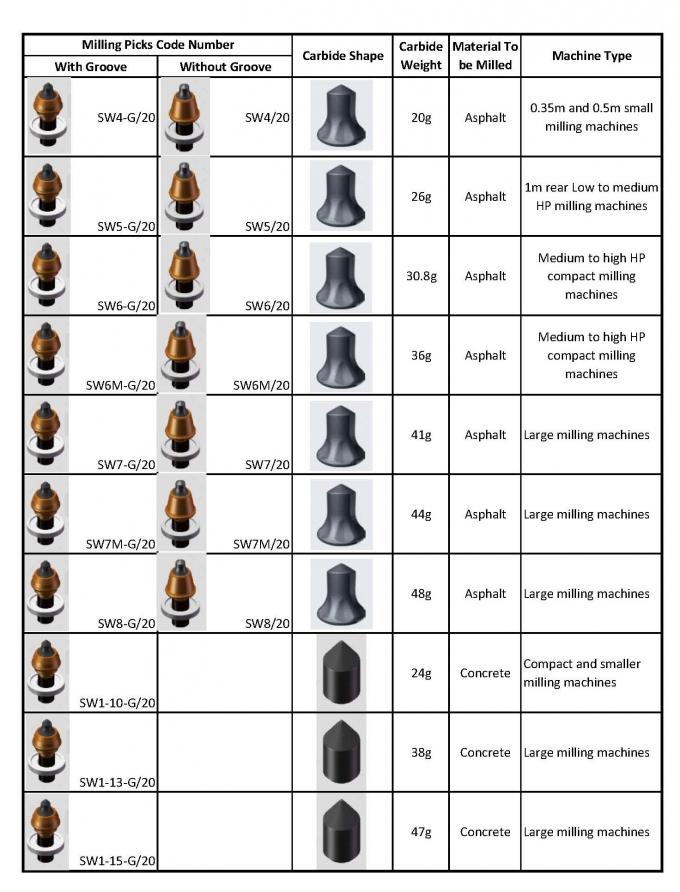 4. Milling Bits Character
Cost-effective asphalt blade, suitable for a large area of soft pavement milling;
Lengthened, rugged tungsten carbide head for medium and large milling machine operations with;
Professional welding process ensures high strength tungsten carbide steel knife tip and body connection;
Hardened cutter body material and shape designed to ensure the life of the tool;
An outer diameter of 45mm spacers reduces the knife wear;
Washer and blade fitting design is conducive to head rotate smoothly;
Pretension and bushing surface coatings, quick and easy tip in favor of the installation;
5. Carbide Picks Structure

1. Reasonable proportion of tungsten cobalt alloy to ensure the wear resistance and fracture resistance of the cutting pick.
2. Excellent flow solder to ensure weld strength.
3. Unique design of the body to improve the efficiency of retraction, to ensure smooth rotation, new heat treatment process to guarantee the wear resistance and fracture resistance of the cutter shank.
4. Thicken gasket design, ensure long life of the toolholder.
5. Thickening the sleeve, ensure moderate tension and clamping force, easy installation and removal.
6. Milling Machines Type
W6M/20 can be used on 100-300 HP compact milling machines, such as the W100F, W120F, W130F, W100CF, W120CF, W130CF, W150, W150CF.
---
Next:
Granite Cutting Diamond Segments Fast Cutting Multidisc Segment for Granite Basalt Diabase Slate
---
Write your message here and send it to us