Fast Speed Concrete Cutting Diamond Wire For Wire Sawing
Product Detail
Product Tags
Fast Speed Concrete Cutting Diamond Wire For Wire Sawing
Description
Type::
Diamond Cutting Wire
Application:
Wire Sawing On Concrete And Reinforced Concrete
Process:
Sintered
Bead Size:
10.5mm
Quality:
Premium
Package:
Carton Box
High Light:

10.5mm Cutting Diamond Wire

,


Concrete Cutting Diamond Wire

,


10.5mm Stone Cutting Wire
Concrete Cutting Diamond Wire For Wire Sawing On General Concrete Fast Speed
1. Concrete Cutting Diamond Wire Description
Diamond wires are cutting tools for rocks (marble, granite etc.), concrete and substitutes of saws in general. They are composed of an AISI 316 stainless steel cable over which are assembled diamond sintered pearls with 10 to 12 mm in diameter spaced 25 mm between each one. The slabbing operation is carried out with a driven pulley coupled to a motor which promotes the diamond wire rotation. The wire is passed through coplanar holes previously made in the rock, and the tension imposed to the wire is made by a motor mounted on trails, coupled to the cutting system. The utilization of this slabbing technology has been expanded all over the world due to its advantages on the other techniques.
Diamond wire sawing involves using a wire saw impregnated with diamond dust to slice through difficult-to-cut materials. In tight spaces hemmed in by tough materials, traditional cutting methods aren't up to the job., while diamond wire saws will cut through just about any material at any depth.
Diamond wire can be configured to handle challenging projects like:
Bridge removal

Pier demolition

Tower demolition

Marine bulkheads

Docks

Industrial sites

Pressure Vessels

Concrete Foundations
2. Specificaiton of Concrete Sawing Diamond Wire
| | | |
| --- | --- | --- |
| Code No. | Specificaiton | Character |
| VDW-CO/01 | 10.5 x 40 beads | High Speed on General Concrete Cutting |
| VDW-CO/02 | 10.5 x 40 beads | Long Life on the General Concrete Sawing |
| VDW-CO/03 | 10.5 x 40 beads | Fast Cutting on the Heavy Reinforced Concrete |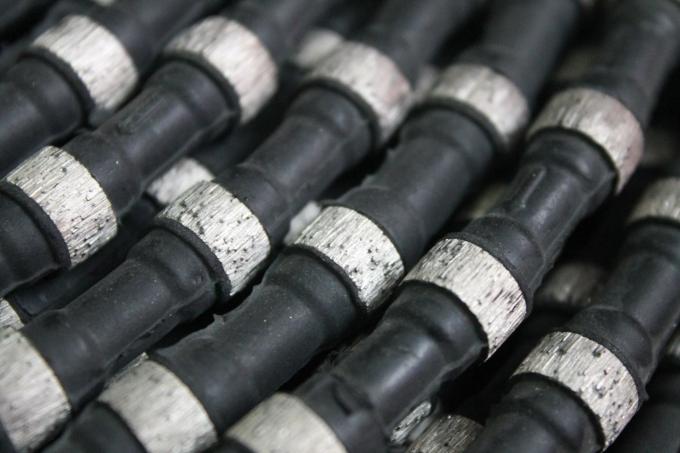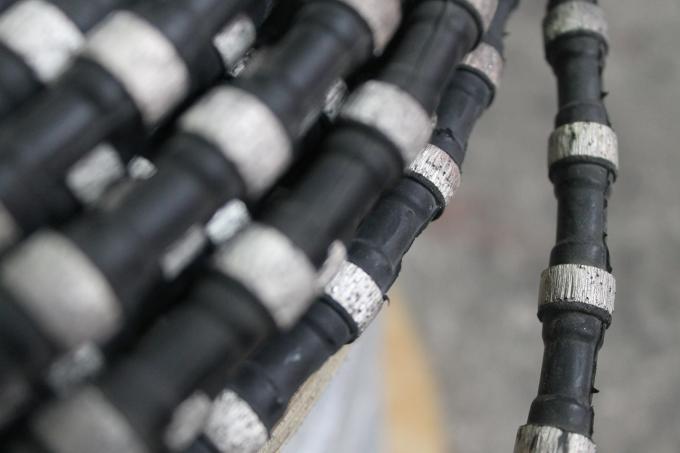 3. Other Note
All diamond tipped cutting tools work best at a given surface feet per minute range, diamond wire operates best at a speed ranging between 4800 to 5500SFM. At this speed, material removal rate, cut time, power requirments and diamond bead wear are all optimized. Slower wire speeds are suggested at the beginning and end of cuts to reduce stress on the wire and wire sawing equipment and to allow for better control of the wire.
---
---
Write your message here and send it to us